Tankless Water Heater Services
Imagine Running Out of Hot Water Mid Shower?
If there's one place that you normally cherish, it's the kitchen in your home. Kitchen is our safe haven where we cook, eat, and entertain. But when something goes wrong with the plumbing, it can quickly ruin your plans for dinner parties and family gatherings down the drain. Are you experiencing a problem with your kitchen plumbing? Does your kitchen drain keep getting clogged? Are your pipes leaking? If you answered yes to any of these questions, then it's time to call the experts at RK Plumbing & HVAC Services to help. Our team of plumbing experts in Staten Island can quickly provide all the necessary upgrades and repairs for your kitchen sinks. We have years of experience when it comes to kitchen plumbing so feel free to call our professionals at any time or any day.
When it comes to kitchen plumbing, our Staten Island plumbing contractors are second to none. Call our professionals at any time for a quick service.
What Are the Benefits of Upgrading to a Tankless Water Heater?
One may be curious as to what benefits there are for upgrading from a standard water heater to a tankless one. There are quite a few reasons why this may be a very reasonable option for you. Here are a few benefits discussed.
You Get an Endless Hot Water Supply
One of the leading benefits of getting a tankless hot water system is that you will never have to worry about running out of hot water again. No matter how long your family takes showers or how many loads of laundry need to be washed, your tankless water heater will keep pumping out hot water.
You'll Experience Lower Energy Bills
Another lucrative reason why people switch to tankless water heaters is that they're more energy-efficient. Conventional water heaters need to continuously heat water, even when no one is using them. This means that they're using energy even when you don't need hot water. Tankless water heaters, on the other hand, only heat water when you need it. This can lead to some serious energy savings over time.
Decreased Risk of Water Damage
One of the scariest things about conventional water heaters is that they can leak and cause serious water damage. Tankless water heaters don't have this problem because they don't store water. Instead, they simply turn on when you need hot water and shut off when you don't.
They Have Longer Life Span
Since tankless water heaters don't have to work as hard as conventional ones, they tend to last a lot longer. In fact, tankless water heaters typically have a lifespan of about 20 years. While a typical water heater might get rusty & corrode with time, tankless water heaters may experience less wear & tear.
They Take Up Less Space
If you live in a small home or apartment, then you know that space is valuable. One benefit of installing a tankless water heater is that they're small and can be mounted on a wall. This means that you won't have to give up valuable floor space just to have hot water in your home.
At RK Plumbing & HVAC Service LLC, we have been providing satisfactory heatless tank water installation and other plumbing and heating services to the residents of Staten Island for many years now. We provide easy estimates on call and our customer service ensures you get a service that is second to none.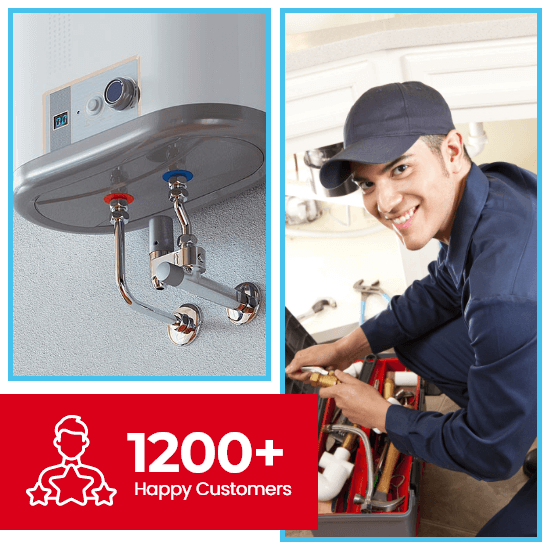 We Also Provide Repair & Replacement for Tankless Water Heaters in Staten Island
When it comes to tankless water heater unit installations, we are not limited to just installing them. Our teams can also provide complete repair and replacement services for your tankless water heater. Do you have a tankless water heater installed at your home or do you have one at your commercial premises? Let our professionals diagnose if it needs repairs or a replacement. We care about your problems so let us help resolve them. We will make sure to give you a safe & comfortable setting. Get the best quality service & enjoy a good living. If you would like to know more about our tankless water heater services, Get In Touch.